Brock, First Qualified Lowland Search Dog, Retires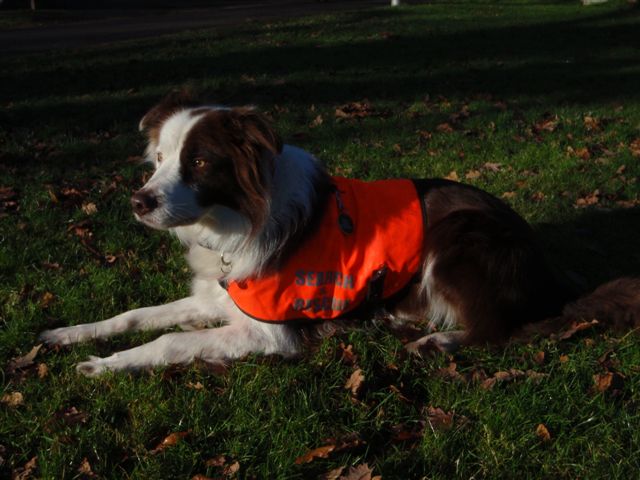 Posted by Judith on 18th August 2014 in News
August 2014 - Brock, a Border Collie cross Australian Shepherd Dog has recently retired from search and rescue after 12 years.
Brock was born on 21st January 2002 and went to live with Lou Holmes in March where he started training to become a search and rescue dog almost immediately.
Brock and Lou qualified as a Level 2 Lowland Aircenting Dog Team in September 2002 when Brock was aged just nine months. He has been operational ever since, qualifying as a Level 3 Area dog in March 2003.
His first live search was in November 2002 where he had quite a following of Police as it was the first time dogs had been used on searches in a Lowland environment. During the search, Brock dashed off down a steep bank and came back alerting from a bush, telling Lou he'd found something. Lou and his entourage nearly broke their necks getting down the bank to see what he had found. Brock came out of the bush proudly holding a football in his mouth! Fortunately, his search career improved after that.
Brock had the first find for the Team, and of any Lowland Search Dog, in 2003.
In 2009 he and Lou won the prestigious title of "Friends for Life" at Crufts, the competition run by the Kennel Club celebrating canine companionship, for their services to Search & Rescue. He has taken part in filming for various different programmes throughout his time and most recently won the Heroic Dog category for Superdogs Live, part of the London Pet Show in 2014, voted for by presenter, Ben Fogle and vet, Noel Fitzpatrick.
Brock has 4 brothers, all Border Collies, 2 of whom are Qualified Lowland Search Dogs and a third, the youngest, is in training and hoping to follow in Brock's pawprints very soon.
Brock has dedicated 12 years of his life to search and rescue. The Team will miss him but we wish him a long and very happy retirement as a loyal, much loved pet.
Share: